Mia Simanainen – voice
Henrik Sandås – bandoneón
Kari Ikonen – moog synthesizer
Aino Juutilainen – cello I Markus Hohti – cello I Mikko Perkola – viola da gamba
What an exciting line-up!
With backgrounds extending from jazz, baroque and tango nuevo to more experimental and improvised music, these artists have been performing together in Finland, Estonia, Sweden, England, Hungary and Russia since 2014.
Ajaton, "timeless" in Finnish, likes to travel across the borders and the ages. The second album Early Music in the Latest Way (Alba Records 2021) shows how – it focused on reneissance and baroque music, which is all rearranged but the delicate feel of the Early Music is preserved. That's magic!
Coming up next: a dive into Finnish music – what will emerge from the worlds of cattle calls, tango & Sibelius? Both original music and ambitiously crafted arrangements are interpreted in luscious detail with a bold and luxurious touch. Biting jazz harmonies, highly dedicated improvising and bubbling rhythms complete the elegant sound palette.
Quartet Ajaton @Opus Jazz Club / Budapest Music Centre, 2022
"This was a soul-gentle sinking into a hot spring bath" -Rondo Classic 2021 / Time of Music -festival
"Sometimes it only takes a few seconds to be drawn into a musical concept. The opening of this album had that effect on me. Quartet Ajaton has hit upon a magical combination of sounds and a programme of material which kept me hooked for all 37 minutes of this CD." -JazzHalo / Stephen Godsall 2021
The second album Early Music in the Latest Way was internationally released by Alba Records 2021, and the debut album Elixir by Eclipse Music 2016.
"For our second adventure in music, our purpose was to travel through time and tradition, and create a bridge between old and the new. We wanted to transform these time-worn songs into something exciting, fun, and open -into music that people centuries ago would have considered utopian."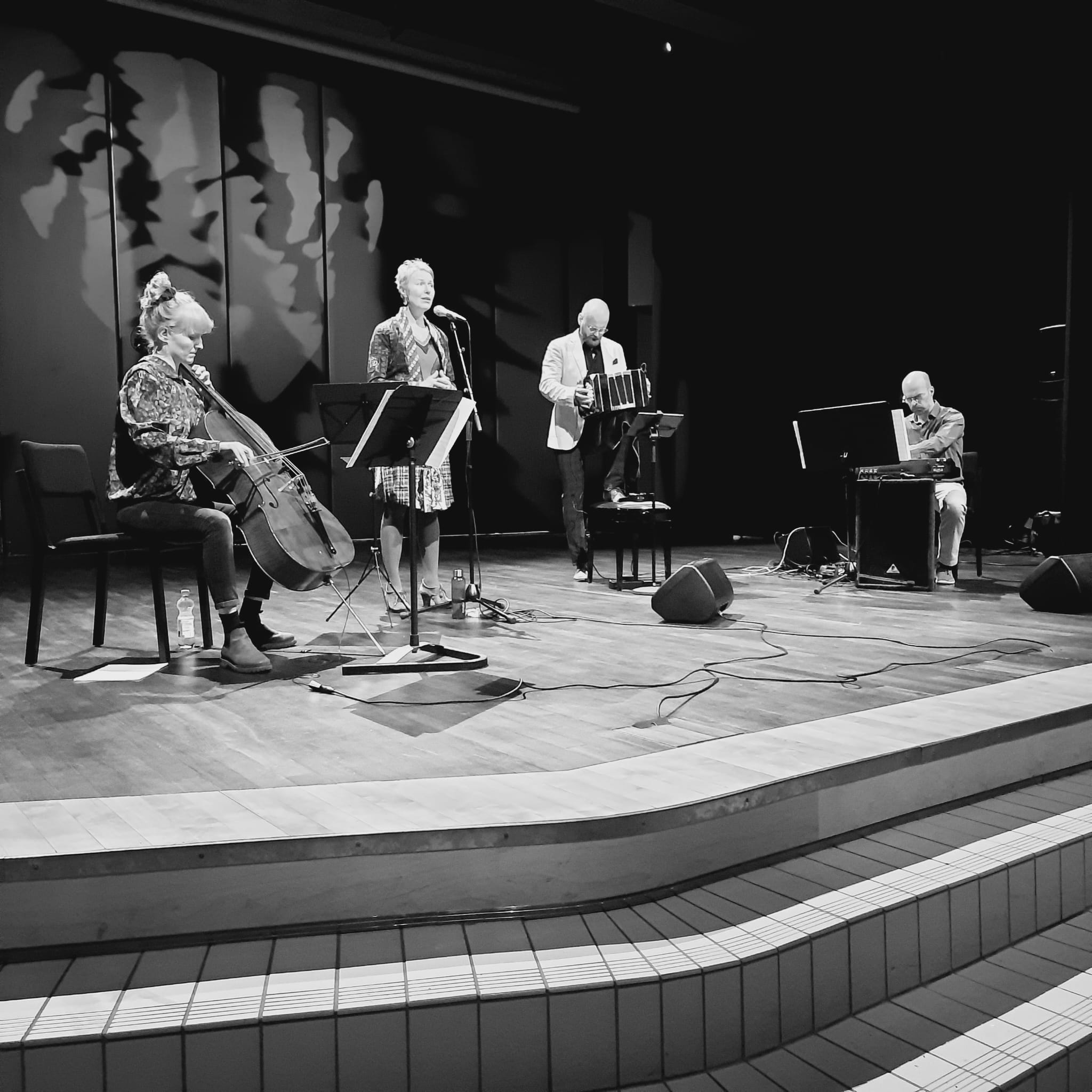 Quartet Ajaton Brahe-hall, Lieksa 2022 (Photo: Jari Hytti)
"At de kombinerer Simanainens klokkeklare og fine stemme, som både har opera- og mer pop-lignende musikk inne, gjør seg utymerket sammen med bandoneon, moog synth og viola da gamba, og alle musikerne har hatt en felles forståelse for hva de ville med musikken, og fremfører den aldeles strålende. Og er dette typisk finsk? Både ja og nei. Men jeg har vanskelig for å finne noen andre som kunne gjort denne «gamle» musikken like sjarmerende og vakker. " -Salt Peanuts / Jan Granlie 2021
Quartet Ajaton (Photo: Antti Kokkola)
---
Mikäs ihmeen kokoonpano tämä on?!
Mia Simanainen – laulu
Henrik Sandås – bandoneón
Kari Ikonen – moog syntetisaattori
Aino Juutilainen – sello I Markus Hohti – barokkisello I Mikko Perkola – viola da gamba
Mia Simanaisen perustaman kvartetin omaperäinen instrumentaatio ja ohjelmakattaus ei tottele vallitsevia määritelmiä musiikin lajityypeistä. Muusikoiden taustat ulottuvat poikkeuksellisen laajalle: jazzmusiikista barokkiin, argentiinalaisesta tangosta nykymusiikkiin, improvisointiin ja kaiken maailman kokeiluun. Kvartetti on löytöretkeillyt yhdessä jo vuosien ajan ja inspiroinut musiikillaan kuulijoita Suomen lisäksi Englannissa, Ruotsissa, Virossa, Unkarissa ja Venäjällä.
"Quartet Ajaton onnistuu kuulostamaan nimensä mukaisesti ajattomalta, mutta ennen kaikkea kiehtovan kahlitsemattomalta." (Helsingin Sanomat / Jazz Espa 2020)
"Moni liikkuu genrejen välillä ja ylitse, mutta tämä yhtye liikkuu myös aikaulottuvuudessa. (…) Quartet Ajaton tekee kaiken prikulleen omalla tavallaan. Hyvin erikoinen soitinvalikoima kantaa, kun muusikot ovat näin taitavia ja näkemyksellisiä." (Suomijazz 2020)
Quartet Ajaton matkailee nimensä mukaisesti myös ajassa: toinen albumi Early Music in the Latest Way (Alba Records 2020) sisältää renessanssi- ja barokkiajan sävellyksiä kokonaan uudelleensovitettuna, mutta silti vanhan musiikin tunnelmaa kunnioittaen – se on taikuutta!
Seuraavaksi uppoudutaan suomalaisen musiikin antiin – mitä syntyy tangon, karjahuutojen ja Sibeliuksen maailmoista? Sekä originaalisävellykset että nokkelasti laaditut sovitukset tulkitaan rohkean ylellisesti: kuulija upotetaan kirpakoihin jazzharmonioihin ja kypsänkukkeisiin improvisaatioihin. Runsaat soinnilliset sävyt sekä ovelasti kuplivat rytmit viimeistelevät syväsukelluksen – tai avaruusmatkan.
"De fyra spännande musiker i Quartet Ajaton är rena drömkombinationen." (Hufvudstadsbladet 2020)
"Kokonaisuus on harmoninen ja sädehtivän kaunis, yhtäaikaa maanläheinen ja älyllinen." (Kulttuuritoimitus 2020, "Vuoden erinomaiset levyt")
Yhtye julkaisi esikoisalbuminsa Elixir (Eclipse Music) v. 2016. Ohjelmistokin oli alkuun kokoelma poikkeuksia, jossa improvisoidut maisemat, kansanmusiikilliset säkeet, 1500-luvun luuttulaulut sekä originaalisävellykset muodostivat yllätyksellisen kokonaisuuden.
Photo b
Nurmes Hannikaisen sali

Nurmes Hannikaisen sali

Nurmes Hannikaisen sali

Tervamäen kappeli

Southwark Cathedral London

Joensuu Pakkahuone

Joensuu Pakkahuone